With 150 acres in a peaceful mountain setting, Doubling Gap Center offers a variety of outdoor activities and locations to enjoy God's beautiful creation. There are plenty of hiking trails, activities and areas to explore and learn for people of all ages. Activity areas not shown below in pictures include a challenge course, co-op course and sand volleyball court.
Breneman Chapel
Named after Rev. J. Paul Breneman who was instrumental in the discovery and purchase of Doubling Gap Center in 1946.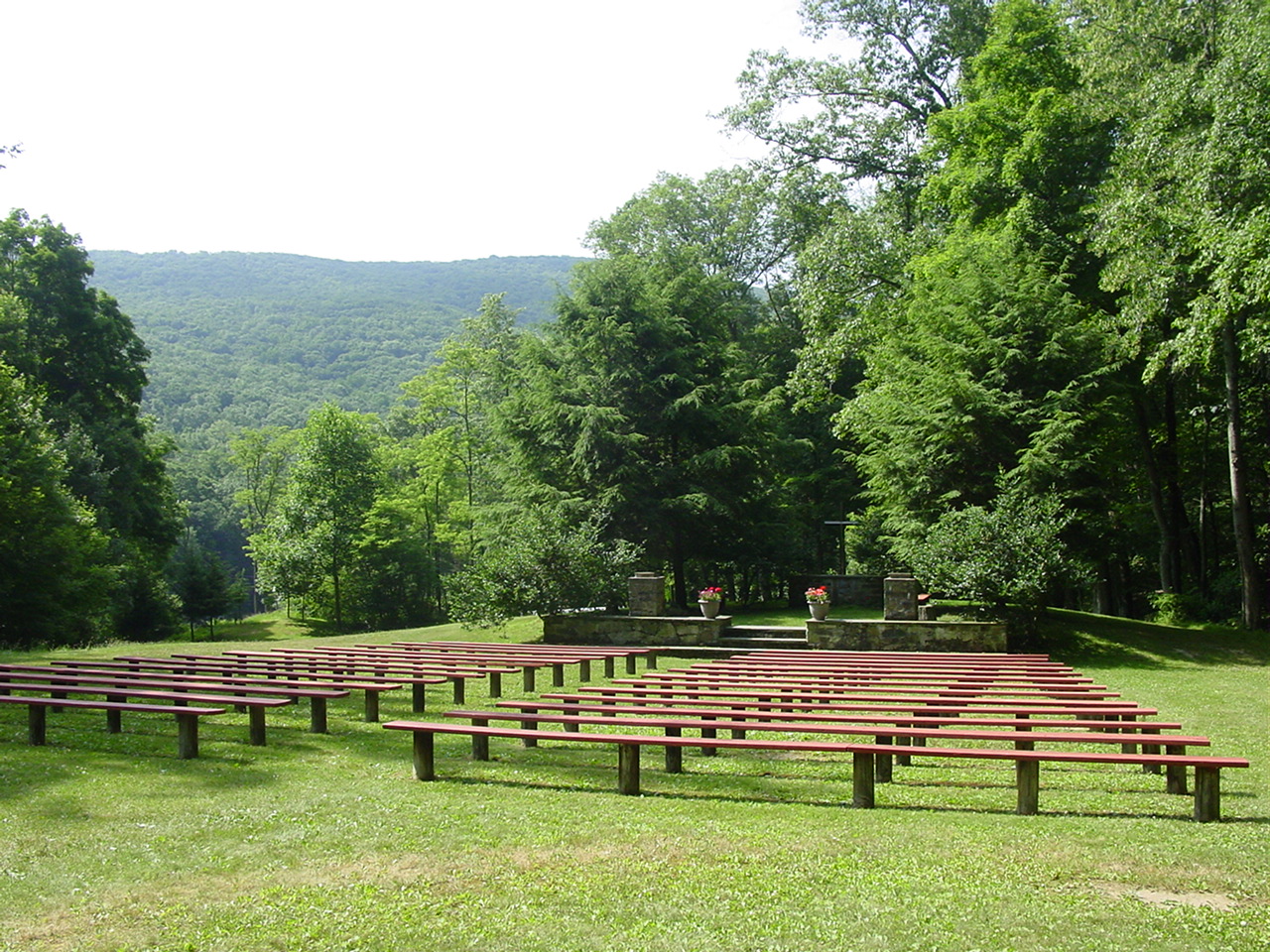 Breneman Chapel
This memorial chapel offers a uniquely beautiful view for worship services.
Lake Henrietta
Down the exit drive is our 4.5 acre man-made lake. Our lake pavilion (top center of picture) hosts family picnics and cookouts and can shelter large group gatherings.
Lake Henrietta
Lake Henrietta provides an area for paddle boats, row boats and canoes as well as fishing.
Outpost Pavilion
The wilderness outpost pavilion contains an outdoor kitchen and picnic area. It is well-suited for our wilderness camping program during the summer.
Orchard Campfire Circle
One of four large group campfire circles located on the grounds.
White Campfire
One of four large group campfire circles located on the grounds.
YoliJwa Temple
This worship area is located up the mountain behind the Main Lodge. Built to honor Dr. Roy Schreiner, the Dean of Camps for the first 25 years of the YoliJwa camping program.
Flat Rock
Located atop the North Mountain, Flat Rock (a 2.5 mile round-trip hike) offers this panoramic view of the Cumberland Valley.
Front Steps
A view from the street looking up Leafy Lane to the Main Lodge.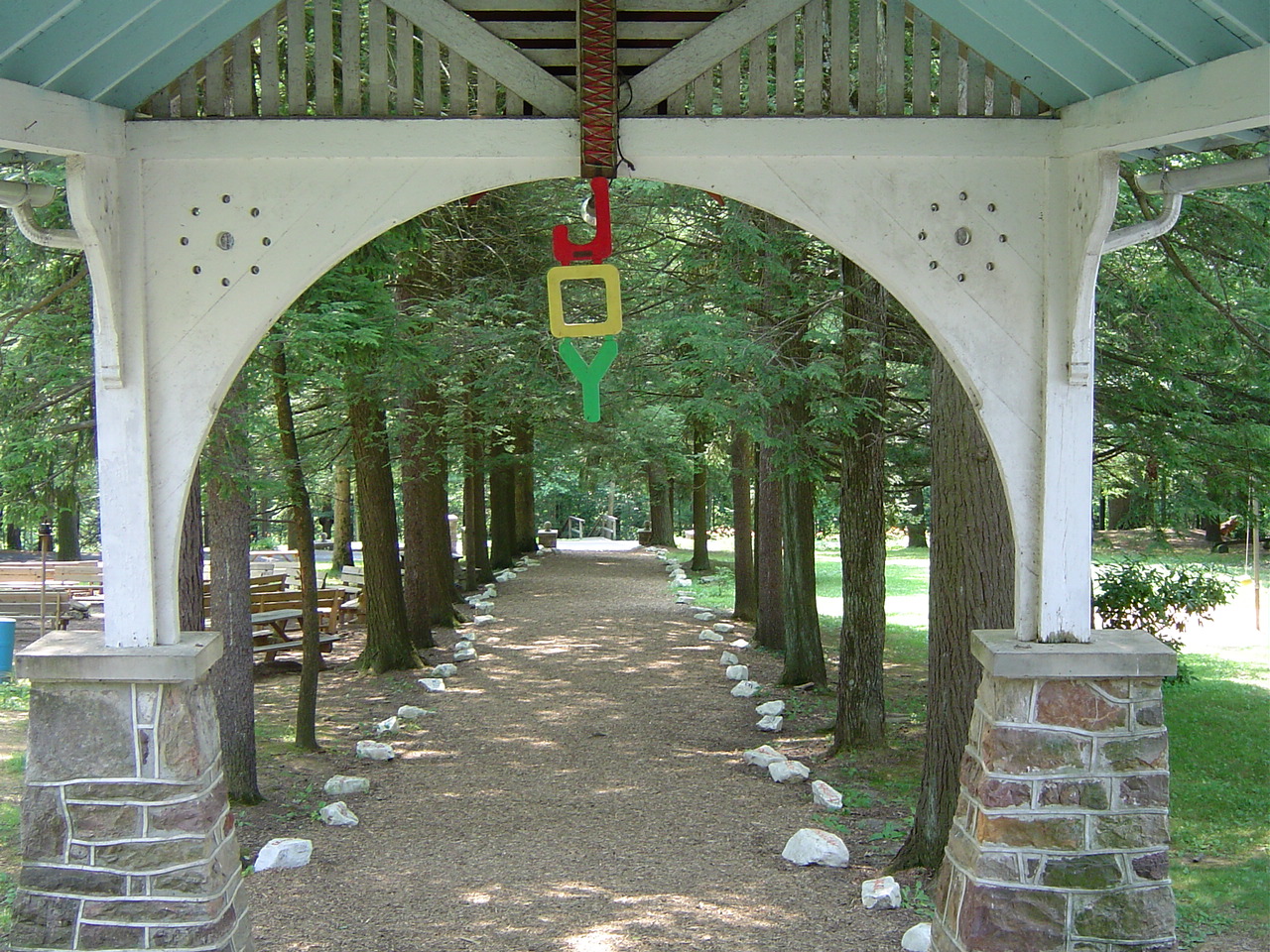 Joy
Standing on the Main Lodge front steps offers this beautiful view down Leafy Lane.
Climbing Tower
At 30 feet tall, the climbing tower is a popular activity for older youth campers and retreat groups. The attached zipline challenges guests to overcome fears as they travel 150 feet to the edge of the woods.
Water Slide
Located between the climbing tower and the Gymnatorium, the water slide is a popular area for cooling down.
Swimming Pool
An aerial view of the pool. The pool measures 100 feet by 40 feet.
Swimming Pool
A very popular activity for all ages in the hot summer months, the swimming pool holds approximately 150,000 gallons of water.
Athletic Field
This large area is used for many field sports including softball and soccer. For scale purposes, the 30 foot climbing tower is located in the bottom right corner of this photo.
GaGa Pit
GaGa or in Hebrew "touch - touch" is a fast paced below the knees dodgeball game. Our outdoor sand GaGa pit is one of the favorites of many campers that attend Yolijwa during the summer.
Front Sign
Welcome to Doubling Gap Center, Home of Camp YoliJwa!
Front Fountain
Located in front of the Main Lodge, pure mountain spring water has been flowing from the twin fountains for over 160 years. They are one of the most photographed spots on the grounds